Monthly Archives:
March 2010
Documentary showing how the Porsche 911 is made at Porsche's megafactory in Stuttgart Germany. Manufacturing speed and style, the Porsche factory in Stuttgart is where many drivers' dreams come true. Venture inside and discover how this iconic sports car is made.
Ferdinand Porsche was a self-taught automotive designer and engineer. In 1900, at the age of 25, he designed the first hybrid gasoline-electric car for an Austrian company. Then in the '30s he sold the German government on his dream of a small, simple car that would be affordable for the masses. That car became the Volkswagen Beetle.
Megafactories – Porsche Part 1 of 5
http://www.youtube.com/v/uGVkyGCmEOs&hl=en_US&fs=1&
Post-war shortages forced Porsche to use components from the Volkswagen Beetle – the rear-mounted, air-cooled four-cylinder engine, the gear box and the suspension – to realize his next car. The car that emerged in 1948 was the Porsche 356. More than 75,000 were made over the course of 15 years.
Megafactories – Porsche Part 2 of 5

http://www.youtube.com/v/IE-oB_zXzcM&hl=en_US&fs=1&
Since 1964, every 911 ever built has been made at Porsche's factory in Stuttgart, Germany. The factory produces around 40 Boxters, about 110 Porsche 911s and approximately 500 engines daily. Porsche builds 16 versions of the Porsche 911, including the 911 GT3 which delivers 435 horsepower.
Megafactories – Porsche Part 3 of 5

http://www.youtube.com/v/VYRga4fC6aM&hl=en_US&fs=1&
Each 911 has around 5,000 welds. Over 4 decades, the design of the 911 has been updated just five times – resulting in six generations.
Megafactories – Porsche Part 4 of 5

http://www.youtube.com/v/CFalL5kfQfM&hl=en_US&fs=1&
The most popular colours for a Porsche are black, white and red, but Porsche can custom paint a car any colour (for a fee). The plant makes more than 20 different versions of its 6-cylinder engine ranging from 255 to 535 horsepower.
Megafactories – Porsche Part 5 of 5

http://www.youtube.com/v/0CYvxjSvuRo&hl=en_US&fs=1&
The countdown to the Nürburgring 24 hour race is on. Porsche teams use the first round of the Nürburgring Long Distance Championship on the 27 March to prepare for the marathon on the circuit in Germany's Eifel region.
Working particularly hard is title defender, Manthey Racing: Porsche works drivers Timo Bernhard and Marc Lieb from Germany as well as Manthey pilot Marcel Tiemann (Monaco) share driving duties in the cockpit of the new Porsche 911 GT3 R at its race debut. The fourth man to join the squad at the 24 hour race on 15 May is, like last year, Romain Dumas (France).
Also awaited with anticipation is the racing premiere of the Porsche 911 GT3 R Hybrid which retrieves energy during braking and stores it in an electric flywheel.
Porsche works drivers Jörg Bergmeister (Germany), Richard Lietz (Austria), Porsche junior Marco Holzer (Germany) and the former Porsche junior Martin Ragginger (Austria) will pilot the vehicle at the 24 hour race. At the test race this coming weekend, Bergmeister, Lietz and Ragginger share the cockpit. "For me it's always something special to race in Germany," admits Bergmeister, who normally competes in a Porsche 911 GT3 RSR in the American Le Mans Series. "We'll gain a huge amount of knowledge at the season-opener of the long distance championship and this should help us to understand the new hybrid system even better and to further develop the car in time for the 24 hour race."
After 17 years, Germany's double world rally champion, Walter Röhrl, makes his racing comeback at the season-opening round of the long distance championship. Joining him at the wheel of a standard Porsche 911 GT3 RS for the Nürburgring 24 hour race is DTM legend Roland Asch (Germany) as well as journalists Horst von Saurma-Jeltsch (Germany) and Chris Harris (Great Britain). "I'm very much looking forward to contesting a race again," says Röhrl. "But the emphasis this weekend will be on gathering as much experience with the car as possible under real racing conditions."
Round one of the Nürburgring Long Distance Championship takes off on 27 March at midday and runs over a distance of four hours.
Chris Harris was at the Nurburgring this last weekend for a first test in the Porsche 911 GT3 RS that he will race with Walter Röhrl at the Nurburgring 24hr…May 15th and 16th.
"So it all begins today. Test started at 10am. This is the GT3 RS: standard car on slick tyres. VERY EXCITED." — Chris Harris
"It's even got a number plate!"
— Chris Harris
"…shares a garage with the Manthay GT3R"
— Chris Harris
"GT3 R Hybrid has the most bizarre front camber setting ever. Seems to be very quick too."
— Chris Harris
Some pics from Saturday …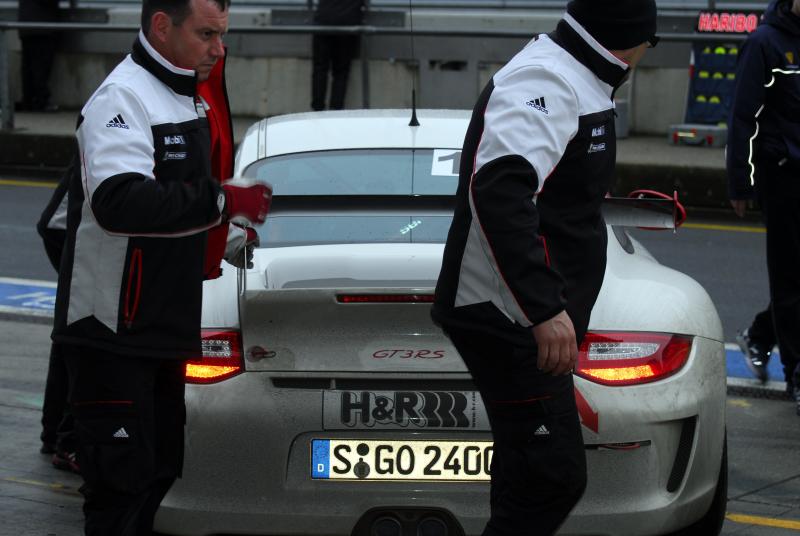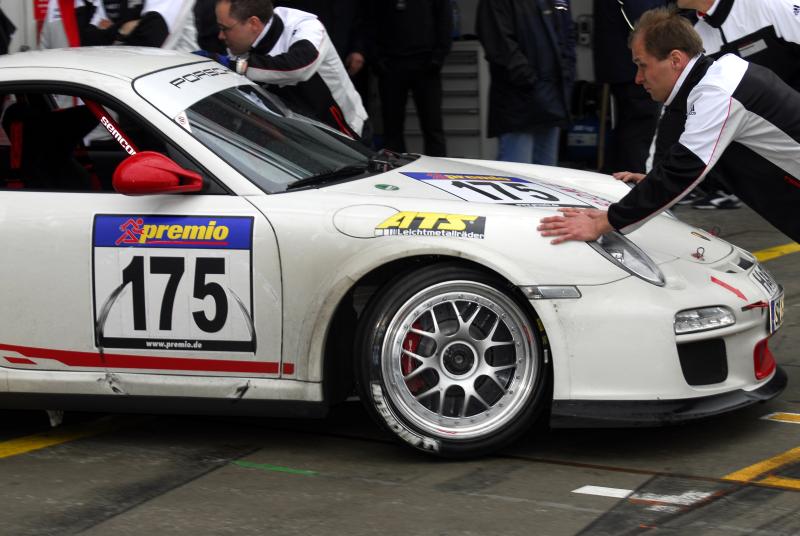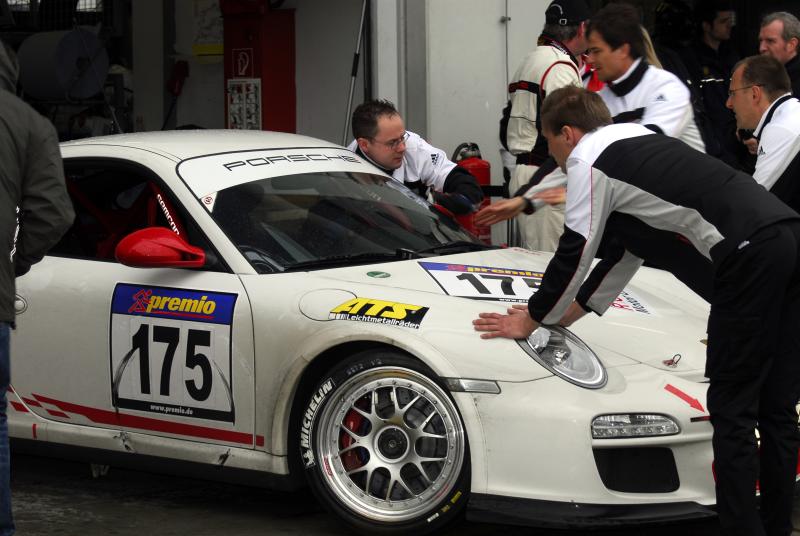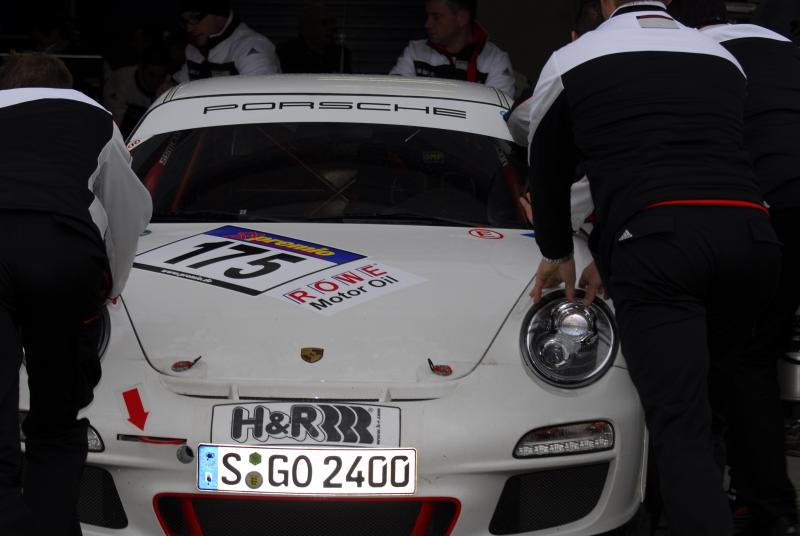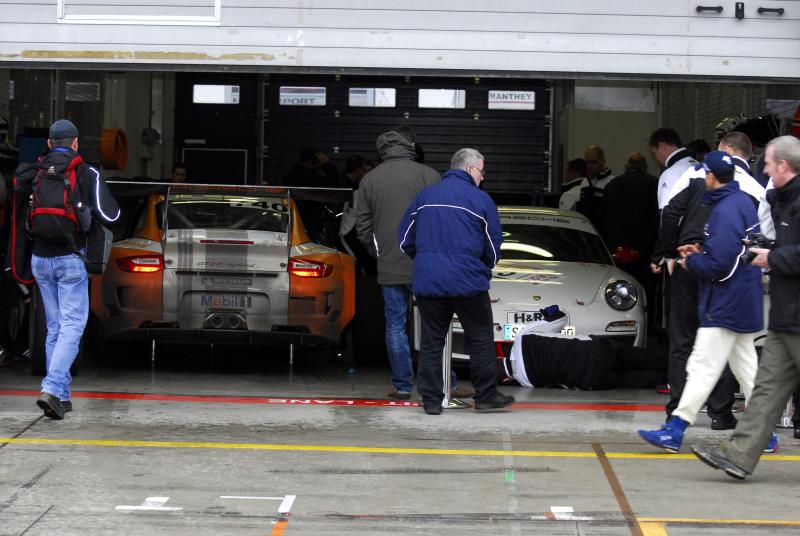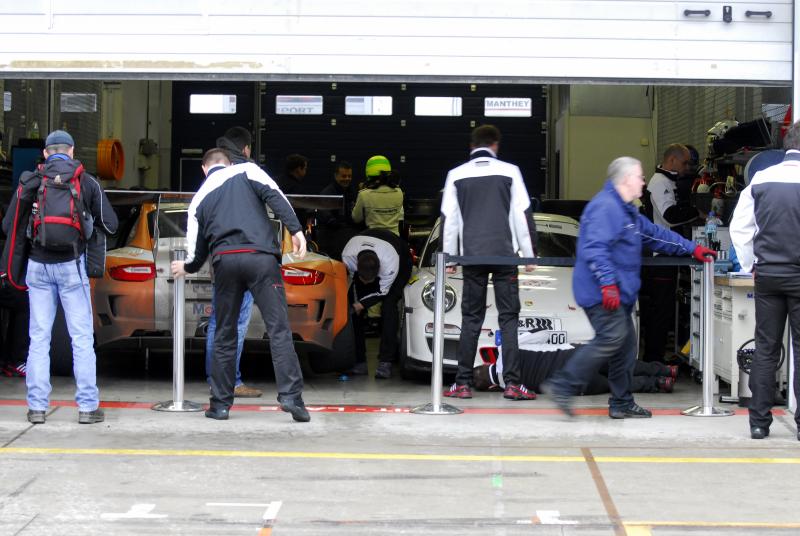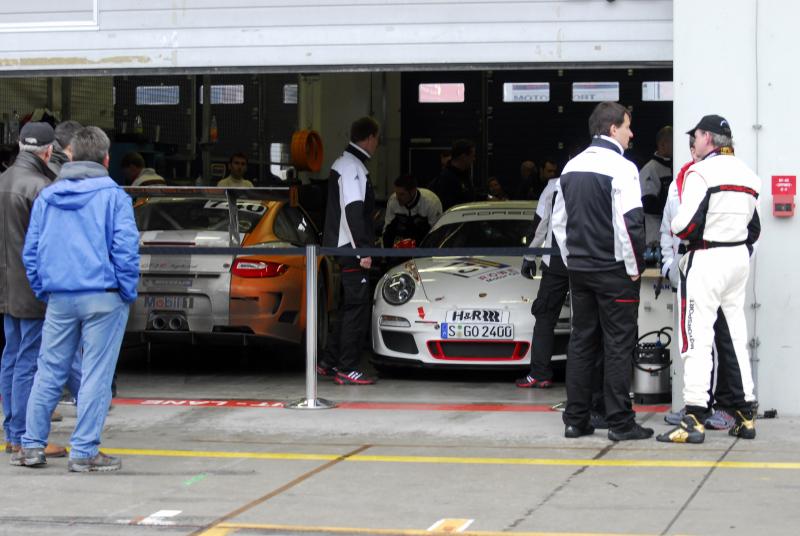 via pistonheads
Porsche ambassador and test driver – and double World Rally Champion – Walter Röhrl will compete in the Nürburgring 24 hour race in Germany on May 15/16 in a Porsche 911 GT3 RS, and British motoring journalist and race driver Chris Harris will be joining the German motor sport legend in the Porsche factory-supported team.
In a driver line-up that mixes youth with experience, 35-year old Chris will be sharing the driving with Röhrl (63) and also former German Touring Car Championship driver Roland Asch (59) and fellow motoring writer Horst von Saurma (55). All drivers know the Nürburgring Nordschleife like the backs of their hands and have contested Germany's greatest long distance motor race several times. 2007 in the cockpit of a Porsche 911 GT3 Cup race car. During the 2008 season, Harris finished in tenth place with a 911 at the Nürburgring long distance championship (VLN). His 911 racing experience also includes two guest appearances in the Porsche Carrera Cup Great Britain, where he scored sixth and seventh place finishes. "I am thrilled and honoured at the prospect not only of representing Porsche in this great race but also driving alongside Walter Röhrl, a driver who has been a hero of mine for many years," said Chris, who is preparing for the endurance race with the assistance of the Porsche Human Performance Centre at Silverstone. Double German Touring Car vice-champion Roland Asch has tackled the 24 hour event in the Eifel Mountains more than a dozen times. In 2004 he secured fifth overall. The foundation for Asch's career was laid in Porsche single marque race championships. Contesting the Porsche 944 Turbo Cup, the German proved to be virtually unbeatable, winning the Championship three times straight. In 1991, he claimed the Championship title of the Porsche Carrera Cup Deutschland. Already in the 2010 season, Asch has a race track marathon behind him, contesting the Dubai 24 hour race where he fought long and hard for the lead at the wheel of a Porsche 911 GT3 Cup, until his retirement. At his debut race in 1987, Horst von Saurma was Asch's teammate in the 944 Turbo Cup. It didn't take long for the Nürburgring-Nordschleife to become the favourite circuit of the Editor-in-Chief of the specialist motoring magazine Sport Auto. Since 1988, von Saurma has contested the 24 hour classic twenty times. In 2001, the 55-year-old shared the cockpit of a Porsche 911 GT3 R with a line-up that included Porsche works driver Timo Bernhard. As a journalist, he regularly conducts tests on the Nordschleife and in 2004 even set a lap record with a Porsche Carrera GT. In preparation for the 24 hour marathon, Röhrl and his fellow racers aim to contest two VLN races with their 450 hp Porsche 911 GT3 RS. "I'm sure we will quickly familiarise ourselves with the track and the car," said a confident Röhrl, who last raced in the Nurburgring 24 Hours in 1993. "We'll need to practice our pit stops. After all, it was 17 years ago that I last made a driver change at race speed."
Nürburgring 24 Hour Race: Specialists support Walter Röhrl at Nordschleife comeback
It'll be on display, very soon, downtown.
Tue, Mar 23, 2010
We're just wondering if the Grammy Museum phoned up the Petersen Automotive Museum and asked for tips on the whole moving-a-giant-motorized-machine-into-a-museum deal.
Because Janis Joplin's famous and memorably painted 1965 Porsche pulled up to the music museum early on Tuesday, March 23. It'll be part of a big Joplin/Hendrix/Doors exhibit that's due to open on Monday, April 5.
Most places would just round up a few costumes, maybe a signed LP or two, for an exhibit. But not the Grammy people. Oh no. They go out. All. Out. Get us a car! Yes! We said car! (Maybe we're paraphrasing there.)
The museum tweeted the pic and we had to share, because the colorful Porsche sitting outside the museum is our favorite picture of the day. Which is saying a lot. Because we, like you, having access to the Internet, see approximately 758 images by 9 a.m.
Lady Joplin, nice wheels. We can almost picture you zipping down PCH, carefree and all Bobby McGee'd.
Petersen Automotive Museum located at: 6060 Wilshire Blvd.(at Fairfax,) Los Angeles, CA 90036
http://www.youtube.com/v/xPJNuaxrHIU&hl=en&fs=1
This past Sunday March 21st, Porsche Cars of North America and the Porsche Club of America organized a parade of over 100 Porsches to drive from the Georgia Governor's Mansion to the Atlanta High Museum of Art. Starting this week the museum is holding the Allure of the Automobile Exhibition. Included is Porsche's historic Type 64 coupe which for the first time has left its home at the Porsche Museum in Stuttgart and travelled to Atlanta Georgia for a three month loan to the High Museum. The Type 64 was designed by Ferdinand Porsche in 1938 and was to be used for the Berlin to Rome endurance race. But because of World War II, that never happened. The design of the car served as influenced for future models including the Type 356 and 911. In this video the CEO of Porsche Cars North America, Detlev von Platen, discusses the importance of the Type 64 for the Porsche brand and its significance for travelling to Atlanta. Note: This video also includes footage of the first 2010 GT3 RS to arrive in the United States.
Report: Porsche building business case for 918 Spyder

by Jeremy Korzeniewski (RSS feed) on Mar 22nd 2010 at 7:55PM

Porsche 918 Spyder Concept – Click above for high-res image gallery

If you build it, they will come. That's our advice to Porsche regarding a production version of the 918 Spyder Concept that wowed attendees at the Geneva Motor Show earlier this month. Somehow, though, we'd imagine that the German automaker would want a more solid business case than our personal opinions. Good news, then.

Rumor has it that Porsche is actively working with its dealers to find enough buyers ready and willing to plunk down their hard-earned dollars on the next halo car from the quintessential sportscar maker. Porsche R&D chief Wolfgang Dürheimer says that the company would be rather pleased "if customer feedback is positive and we end up over time with about 1.000 firm orders."

If Porsche were to put its hybrid 918 Spyder into limited production, it wouldn't be without precedent. Back in the early 2000s, Porsche used a similar tactic to put its awesome Carrera GT on the market… and we all know how that turned out. As we said before: If you build it, they will come. Trust us. Oh, and there's a bunch of new images in our high-res gallery below… just in case you're in the market for a new desktop background.

[Source: Automobile]

Filed under: Concept Cars, Convertible, Hybrid, Performance, Porsche

Tags: 918, 918 spyder, 918 spyder concept, 918Spyder, 918SpyderConcept, Porsche, porsche 918, porsche 918 production, Porsche 918 Spyder, porsche 918 spyder concept, Porsche 918 Spyder Hybrid, Porsche918, Porsche918Production, Porsche918Spyder, Porsche918SpyderConcept, Porsche918SpyderHybrid
Directed by Stephane Benini and produced by Clashproduction.
VERNAL EQUINOX is now online http://www.facebook.com/l/485d6;www.vernalequinox-movie.com/ MOVIE WILL BE ONLINE THE 10 OF MAY 2010 FREE ACCESS. This fiction will be directed by Stephane Benini and produced by Clashproduction. The character of the work is solely artistic and not for profit, without any commercial objective. VERNAL EQUINOX : A student goes home when he faces a unexpected situation. He becomes aware of a challenge unexpected.
http://vimeo.com/moogaloop.swf?clip_id=10295761&server=vimeo.com&show_title=1&show_byline=1&show_portrait=1&color=00ADEF&fullscreen=1
The 2010 12 Hours of Sebring marks the 50th anniversary of Hans Herrmann's victory at the legendary event in his 1960 Porsche RS 60. This year, the pair of Flying Lizard Porsche GT3 RSRs are on hand to defend their 2009 championship title. Jörg Bergmeister and Patrick Long, both Porsche factory drivers, discuss what its like to race at Sebring and to be part the Porsche driver legacy. It was a close battle in GT2 last year between the Lizards and Corvette Racing, making this year all that more important. Excellent video by JF – TangentVector
Excellent video at Sebring MARCH 19TH, 2010
BY JF – TangentVector
LIVE STREAMING BROUGHT TO YOU BY PORSCHE
I am hoping this video player will show LIVE streaming for "The 58th Annual Mobil 1 Twelve Hours of Sebring" which takes the green flag at 10:30 AM EDT Saturday, March 20, 2010. Also LIVE television coverage on SPEED TV starting at 10:00 AM. The first 90 minutes will be telecast (until noon EDT), and then continue on www.speedtv.com until 2:00 PM, with the final 8-1/2 hours live on SPEED. The checkered flag will fly at 10:30 PM, and network will stay on the air until 11:00 PM with complete post-race coverage and interviews. The expected shoot-out between Porsche, BMW, Ferrari and Corvette for the 58th running of the Mobil 1 Twelve Hours of Sebring has already begun even with the start of the race more than 12 hours away. With 18 overall wins and 63 class victories Porsche will be hoping its works drivers can add to those figures when the 12 hour race kicks off tomorrow and 15.30 CET. Source: Porsche Motorsport
ITALIAN ARTIST ALESSANDRO GEDDA HAS A PASSION FOR FAST CARS AND IN PARTICULAR FOR THE PORSCHE
Porsche "My passion," he says..
Fancy painted Cayman lifted onto a building.  A crane lifts a covered Porsche with a cloth, it does a fly over one of the most beautiful buildings in Milan and then laid gently on the Terrace Downtown.The curtain falls and reveals a Porsche Cayman completely customized by the brush of Alessandro Gedda.  The man seems to be a perpetual motion machine. Italian artist Alessandro Gedda radiates a dynamic energy that finds expression in his brilliantly hued, powerful paintings.
With his zest for art, photography, and design, Gedda has gained an international reputation. His works have been exhibited in Rome and Milan and will be shown in Monaco, New York, Miami, and Moscow this year alone. One of the dominating themes of his work:
Porsche. "My passion," he says.
A passion the forty-year-old Gedda is not content to express solely in his art: Last year, he pursued it for 50,000 kilometers (about 35,000 miles) on real-life roads. His current love is a 911 Carrera 4 in Seal Gray. Che bella macchina, as the Italians like to say. Gedda says he soaks up the various impressions he gains on these drives, unfiltered, so to speak, to later capture them on canvas. These fleeting impressions range from the typical anarchy of an Italian roundabout to a speedy highway jaunt to a stop by the side of beautiful Lake Como.
Gedda lives only about ten miles from Lake Como, in a sixteenth-century manor house in Appiano Gentile.
"I only keep a few of my canvases at home," he says. "The others are in private collections. Two were recently bought by American gallery owners. Actually, when I think about it, selling one of my pictures is always a highly emotional experience. It means parting with one of your creations. It will travel new roads without you—but it carries your mark out into the world, the mark of passion."
Alessandro Gedda
How did it all start?
"I was six years old, and we were living on a country estate in Tuscany. Friends of my father would often drop by before taking part in a rally on the island of Elba. And there was this one car that caught my fancy more than anything else," Gedda says. "A Porsche. I especially remember the big headlights and the inimitable sound. I drew a picture of it—and from that moment, I knew I wanted to own a Porsche myself one day."
Just one Porsche? Actually… no.
Gedda's current Porsche is his fourth. He started out with a 911 SC 3.0, then he fell in with a 911 RS, then he set his sights on a 911 Carrera, before ultimately falling for his current "baby."
Gedda's relationship with his Porsches is a close one. He even talks to them. He remembers how he once got up early so he could have a heart-to heart with his 911 RS and beseech it to climb the Cisa Pass "like only this 911 could." The pass crosses the Apennines to link the Emilia-Romagna region with Tuscany.
"The Porsche replied in its own language, the musical tones of its flat-six engine."

This slideshow requires JavaScript.
Talking to your car sounds a little crazy?
Well, maybe this kind of dialogue is less surprising when one considers that Gedda studied communications in New York City, and for the past thirteen years has headed an agency devoted to communications in the broadest sense of the term.
Alessandro Gedda has always liked to test limits, including his own—whether it's parachuting (when he was with the police in the 1980s), deep-sea diving, or pursuing his passion for Porsche. In that respect, his current pet project fits the bill perfectly. It seems space will be getting a little tight in his studio soon. Besides his large canvases, Gedda will have to make room for a Porsche 356. He plans to restore the vintage machine—in 356 days, to be precise.